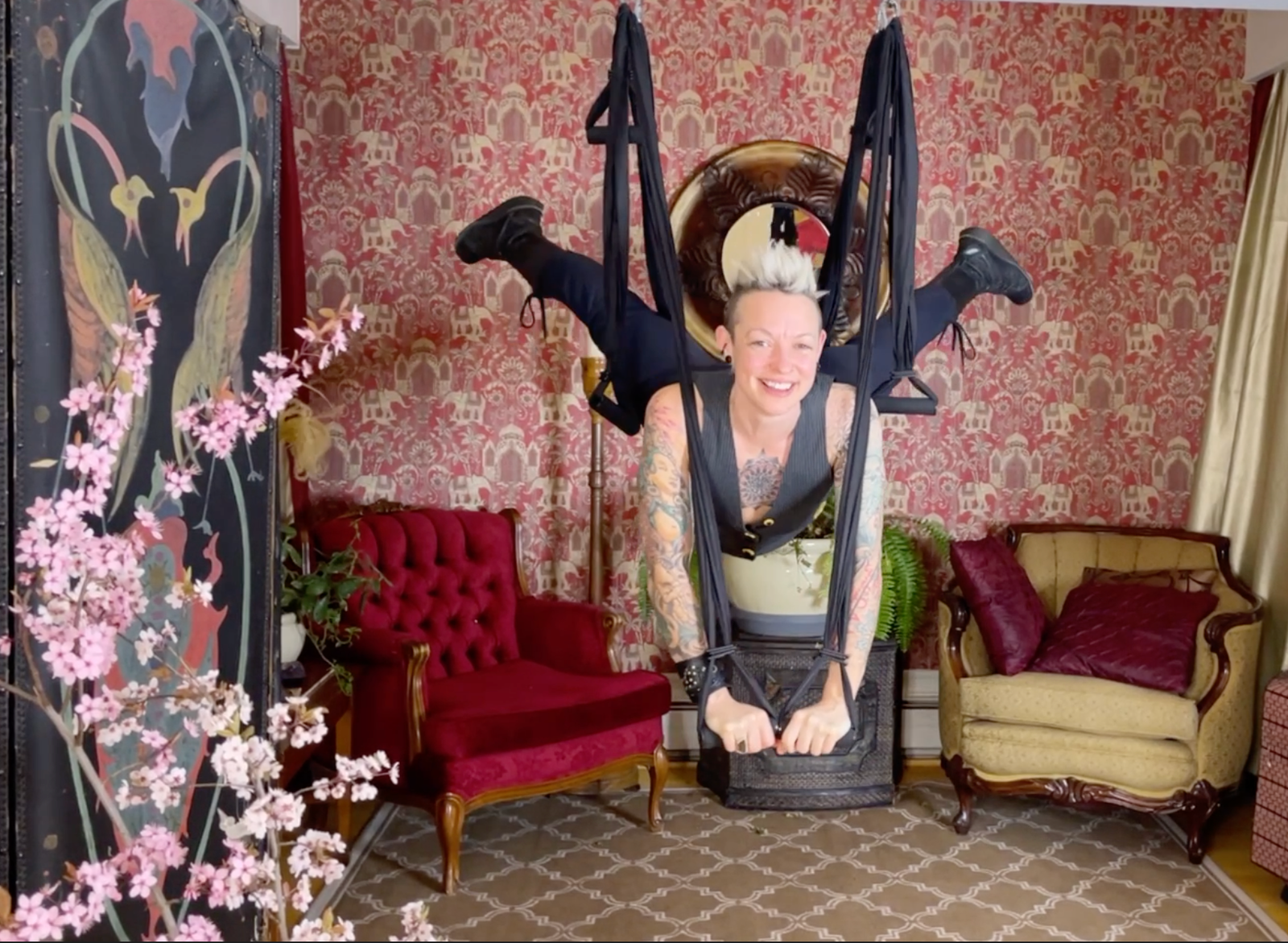 Connect with your personal belonging and erotic longing through embodying breath practices; mindful, loving touch and ecstatic play.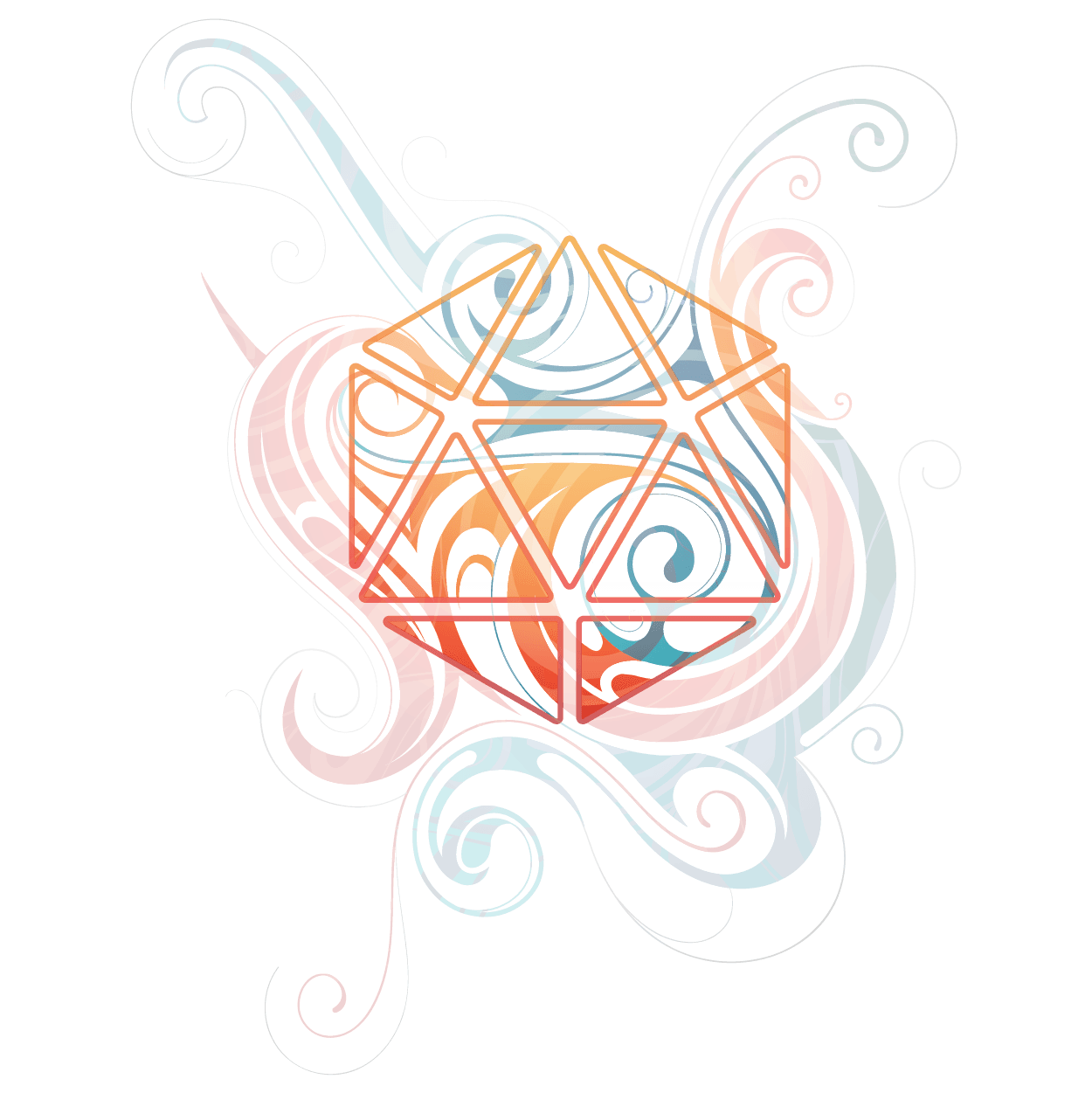 RAYNEFYRE grayce
Hello! My name is Raynefyre Grayce [ rān fīʹər | ɡrās ]
I am a queer hearted artist, digital designer, ecstatic breath and BodyWork practitioner. I like to spend my time playfully queering the intersections between embodied sexual pleasure, gender expression and heart centred spirituality.
My current passion is all about exploring PLEASURE and ecstatic CONNECTION through TOUCH. Let's share tools for cultivating selfLOVE, compassion, authentic emotional expression and QUEER erotic embodiment.
Book a discovery call and learn more about my client driven, erotic whole-body awakening MASSAGE, guided MOVEMENT and ecstatic BREATH exploration.

Their Experience
I am a graduate of the Urban Tantra Professional Practice Training Program and a lifelong seeker and practitioner of queer-based-spirituality.  A curious cultivator of surrender based, vitality promoting, pleasure focused practices, giving space to sensations, and relief of tensions, blockages or numbing disconnect. My most valuable learning is to be present with what is and meet it with GRACE.
In the past 5 years I have co-facilitated ecstatic breath journeys for groups of up to 50 through Zoom and in real life at Stockholm PRIDE and Scandinavia's regional BURN events. My team and I founded a queer-centred camp at the Borderland. It's basis is on providing a safer ritual space for connection to radical self love and expression, tantra inspired workshops and kinky play. Our venue welcomed other burners to host their own workshops and events in our bookable tipi throughout the week.
Presently, I am enrolled as a student with the Institute of Somatic Sex Education. Here I find belonging within an ethical body of qualified community sexperts, queerdos and an abundance of resources.
With a focus on playfully cultivating pleasure through queer embodiment, I am devoted to be of service to the desires of women, trans, and genderful expressions beyond the binary.
I am co-founder of a queer event collective of transformational heartists, who gather 2-3 times a month for workshops, ceremonies, and community events. The Expansion Mansion hosts a variety of interests including, tantra, sensual bodywork, consent, compersion, lifestyle, therapeutic kink, alternative medicine… 
What they VALUE
I value the freedom to practice radical self expression. This goes for myself and others. I value and support autonomy and agency. I believe that we can cultivate wellness from within. We all have inner pharmacies that guide our personal healing journeys.
Curiously tapping into our desires through play is transformative. I value having access to spaces that welcome respect, fresh perspectives, and supporting unconditional love. Sacred ritual spaces held together by shared intentions, respected boundaires and clear agreements.
I believe we are all responsible for our own experiences. I take ownership for my domain. This includes thoughts, emotions, actions, needs, desires and care.
You are so welcome, means that your glorious and not so glorious parts of you. How are you showing up today?
Explore Queer embodied awakening: Integrating breath, movement, touch & erotic play
I offer, trauma informed, erotic body awakening massage with a focus on curious, whole body exploration and expanding sexual pleasure. I work with queer hearted women, trans and gender non-conforming folks beyond the binary who are interested in surrendering to the magic of asking to receive. I also offer guided ecstatic breath journeys for individuals, couples, triads and groups in my home studio.
I like to play. I desire to share my access to all kinds of fun toys and equipment. Is there a fantasy you've been hiding in secret? Perhaps you're ready to experience a new sensation? Let's co-create and adventure together.
Book your session today in my private home studio situated on the shared, unceded, ancestral Coast Salish territories of the xʷməθkʷəy̓əm (Musqueam), Sḵwx̱wú7mesh (Squamish), and səlilwətaɬ (Tsleil-Waututh) Nations. Colonially known as, Vancouver.
Queer Embodiment, self love, touch & play
How may I inspire your DESIRE or better yet, what does your heart and soul long for? I love to co-create RITUALS that support your journey of (re)connection to radical selfLOVE, deeper embodiment, PLEASURE, sex MAGIC and personal transformation.
Tend to your queer heart's pleasure. I invite you to deepen your sense of self appreciation, sexuality and erotic potential.
Ask me about my community BodyWork referral program
Every booking referral receives credit towards next your session. Credits are bankable and never expire.
Full Body Awakening Massage
How would you like to be touched? This pleasure-driven-active sensual massage is designed to meet you where you are at in each moment.
This erotic trance massage is for QueerHearted folk who are ready to deep dive into full body awakening pleasure. Experience divine wholeness through touch that meets you exactly where you are.
sixty minutes - $200 | two hours - $300
Book now
"Raynefyre is an exceptional communicator and is adept at creating safe space to experience deep pleasure, profound healing and expanded awareness. Since my session I have felt supercharged and full of buoyant, vibrant energy."
JQ | Vancouver, BC
"I was fortunate to receive support from Raynefyre in the form of ecstatic massage/body work while I was going through harsh side effects from cancer treatments. It was a point in my life where I felt I had been disconnected from myself for months, and could not find the will or energy to work at getting back (or moving forward). What this support did for me is hard to describe in words, which makes sense because it was a somatic experience and not about mental understanding.
Raynefyre's physical presence and touch let me reengage with my physical self in a way that brought me past the pain and exhaustion I was feeling. I connected with different and pleasurable sensations, that made me feel at ease and calm for the first time in months. To this day I remember to breath because of this experience. It left me with something I had lost for a while .. hope. I don't know what your experience will be working with Raynefyre, but I can tell you for me it was getting a piece of my self back."
Anonymous | Victoria, BC
Sensual Skin Hunger Massage
Is TOUCH your love language? You are worth it! Skin hunger is a modern condition that has amplified over these times of intimate isolation.
I provide the touch you need to sooth your being and satiate your appetite. For lonely QueerHearts, Women and Men who are longing to be touched.
sixty minutes - $120 | 5 sessions - $500
ninety minutes - $150 | 5 sessions - $600
Book now
Four Hands Erotic Massage
For Couples - Embodied learning is FUN! In this session each person will receive the quality of touch of their choice and learn new techniques for reaching pleasure.
I will guide each partner how to provide pleasure driven massage techniques to meet their partner's desire.
two hours - $500 | three sessions - $1200
Book now
"I am very grateful to have received an erotic massage from you. Your loving presence made me feel safe and I felt you normalize my sexuality for me. I very much enjoyed the massage and could feel soft yet powerful energy flowing out of your hands and into my body. The massage was gentle but firm."
JB | Vancouver, BC
Pay what you can Bodywork Sessions:
One session per week for new clients in need.
Post Surgical Scar Aftercare
This is for QueerHearted humans who are in recovery from gender affirming surgery.
I provide trauma informed touch and scar remediation aftercare for folks recovering from gender affirming surgery. I offer support and care to be fully seen and heard in your gender journey.
sixty minutes - $120 | 3 sessions - $300
Book now
format_quote
I have noticed more calm and clarity in my body since the Ecstatic Breath workshop with Raynefyre. The breath medicine that they gave me is turning out to be a wonderful tool for navigating my busy life.
format_quote